Training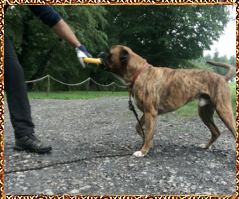 We organise individual training on the basics of obedience, we help to solve behavioral problems
agression, fears, obsessions
preparing dogs for adoption
to help adopted dogs
human – dog relationship
learning the basic commands
educational activities for puppies
We have a special area for dog training, equipped with an obstacle course.

The training takes place in Jastrzębie Zdrój, Kochanowskiego Street.

Price: 50 PLN / h.

The possibility of reaching the customer.
PRICE PER DAY:

Small size of a dog: 40 PLN
Medium, big, giant size of a dog: 50 PLN
Puppy: 60 PLN
Cat: 20 PLN
Other animal: 10 – 15 PLN

The given prices are self-catered prices.
Staying in a hotel with a catering + 5 PLN..

Dogs training:

Individual: PLN 50
Group training: PLN 40

OTHER SERVICES by prior arrangement.