Training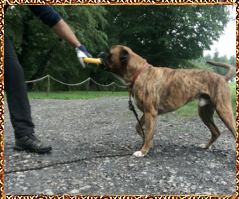 We organise individual training on the basics of obedience, we help to solve behavioral problems
agression, fears, obsessions
preparing dogs for adoption
to help adopted dogs
human – dog relationship
learning the basic commands
educational activities for puppies
We have a special area for dog training, equipped with an obstacle course.

The training takes place in Jastrzębie Zdrój, Kochanowskiego Street.

Price: 70 PLN / h.

The possibility of reaching the customer.
Our hotel was created for pets' owners who want to relax peacefully during their days off, at the weekend or on their holidays, without worrying about their pets. We try to make pets feel hugged and homely atmosphere.
Conditions of stay:
air-conditioned and heated indor pens,
large outdoor play pens with a wooden platform and insulated kennels,
two - three walks per day, on a long leash from 10 to 15 metres, under super vision of a guardian,
the access to the recreational and picturesque green area over 3 hectares, with ponds and the obstacle course available for dogs,
each dog is treated individually according to the owners' indications,
monitoing with a cameras system,
the fire protection system,
filtered water.
WE CORDIALLY INVITE YOU!